Monday, April 15, 2019 / by Ashleigh Townsend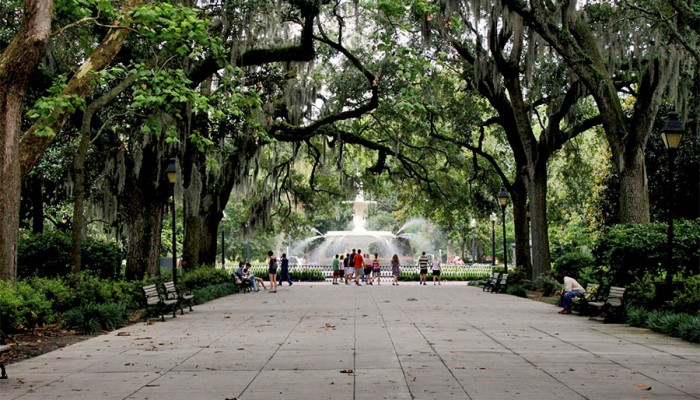 You may not know this, but April 23rd is national picnic day.

All across the country people will be packing their baskets and grabbing their blankets to enjoy some al fresco dining while shaking off the final memories of winter. We're sure you've heard that life in Savannah is best lived outdoors, and as you'd expect - there's no shortage of excellent picnic spots for you and yours to enjoy on national picnic day in our local area this year (weather permitting).

With that in mind, here's what we think are 3 of the best picnic spots in and around Savannah.

Let's get started!
Forsyth Park
If you've ever set foot in Savannah, you're probably not going to be surprised to see Forsyth Park mentioned at the very top in a blog post about picnicking in the local area. It's an iconic green space that both residents and visitors like to enjoy all year round – and it has everything you could ever want from a picnic spot.
Its large size allows you to easily find wide open spaces where you can throw a frisbee or toss a ball without having to worry about accidental impacts with other visitors. When you're done throwing stuff around, you'll find the ideal spot for a little relaxation underneath the park's shady oak trees. These iconic trees (which are dripping with gorgeous Spanish moss) provide the perfect amount of shade and create a sense of magical tranquillity that the park is famous for.
When you combine the natural beauty of this wonderful area with its excellent location and convenient transport links – it's easy to see why it's at the top of our list today.


Tybee Island
If you're familiar with Forsyth Park, then there's a good chance you're familiar with Tybee Island too – it's another local natural gem that is hugely popular all year round. Just like Forsyth Park, it's very easy to get to with excellent transport links.
There's nothing quite like picnicking on the beach. The beaches of Tybee Island stretch for miles and they really need to be seen to be fully appreciated - they're astonishingly beautiful.
There's no shortage of space here, so you're almost certain to have enough room for any beachy activities you enjoy. This also means you could alternatively find a relaxing spot for little peace and quiet if living life on "Tybee Time" is more your thing.
Just remember, Tybee Island is as popular as it is large, and while it's probably going to be quiet on national picnic day (as it's on a Tuesday), during peak times – it's not somewhere you're going to be able to escape the crowds.
And don't forget to pack your bathing suit!
Picnic Pro Tip: Remember to carefully check the weather before you go, if it's windy, pack a windbreaker or pick another spot – no one likes sandy sandwiches!


Skidaway Island
Skidaway Island is another one of the natural wonders that we're lucky enough to have here in Savannah's back yard, and it's more than worthy of being added to the top of your shortlist for April 23rd.
Strolling along the well-defined paths while taking in the serenity of some of mother nature's finest work is a great day out – with or without a picnic. If you're lucky you'll be able to spot some local wildlife here while you're wandering around – including deer, egrets, and fiddler crabs.
There are a few picnic shelters dotted about the park that can be used to make your dining experience a little more refined if that's your thing. However, we think that nothing beats the feeling of dining on a blanket in the great outdoors, and there are some truly wonderful spots for that here (so don't forget to pack one).

If you are looking to buy, sell, or relocate to this beautiful, rapidly growing city, contact us today at 912.737.2935!
---