Wednesday, October 16, 2019 / by Ashleigh Townsend

Are you looking for a restaurant in Pooler that offers an outdoor dining experience? There's nothing quite like dining outdoors when you're in Pooler. Great weather, friendly folks, and good food. We've done the heavy research and bring you a curated list of the top 10 outdoor restaurants in Pooler.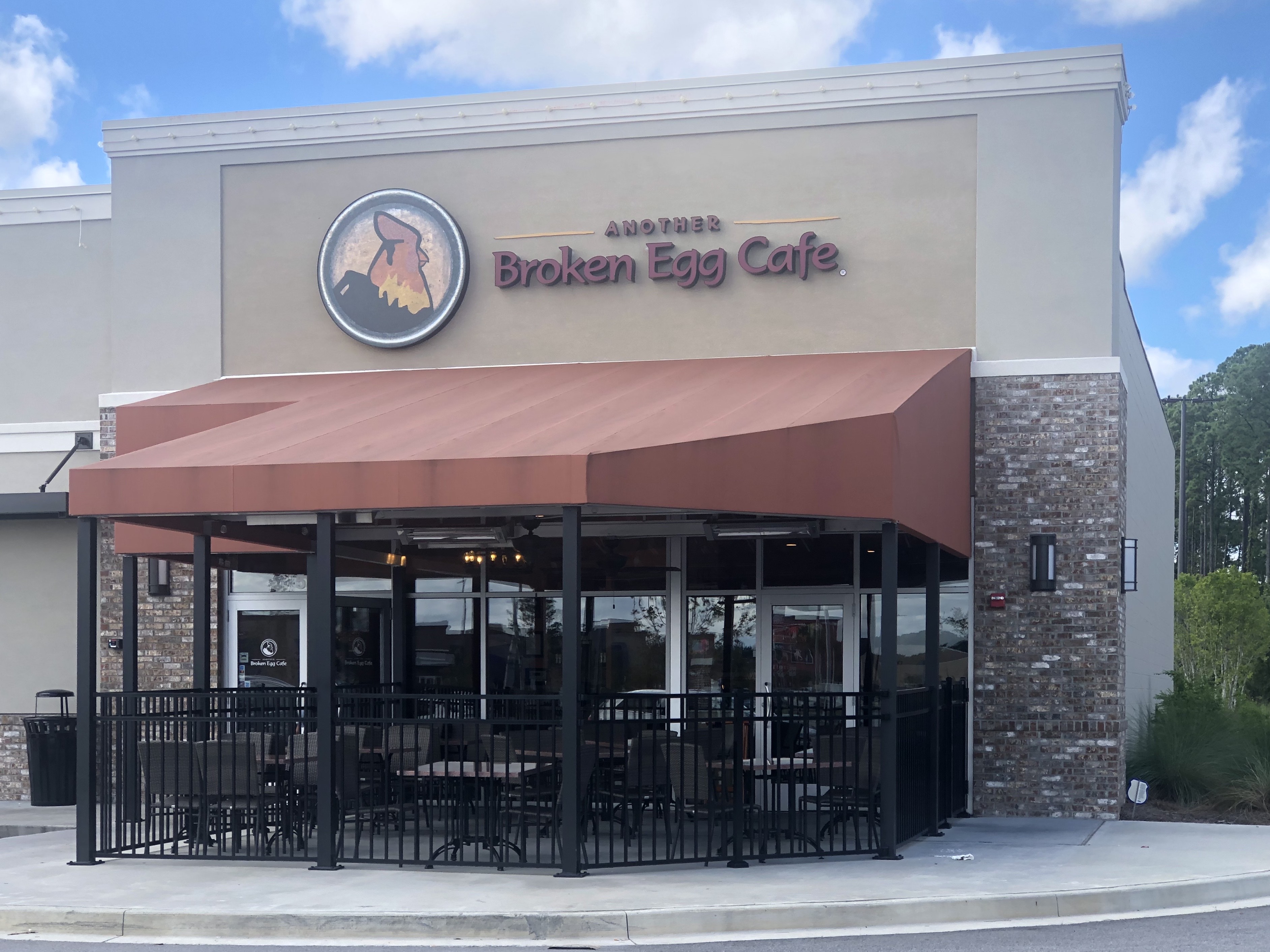 Another Broken Egg
201C Tanger Outlets Blvd, Ste 530, Pooler
Open: 7 Am – 2 PM
This family-friendly establishment opens daily and provides breakfast, lunch and brunch options. There are vegetarian-friendly meals also available. The traditional menu has a variety of pancakes, French toast as well as waffle servings. The seasonal menu offers patrons the choice of seasonal produce. The café's Signature Cocktails are the beverages you can buy. Another Broken Egg's outdoor patio makes it a perfect brunch spot in Pooler!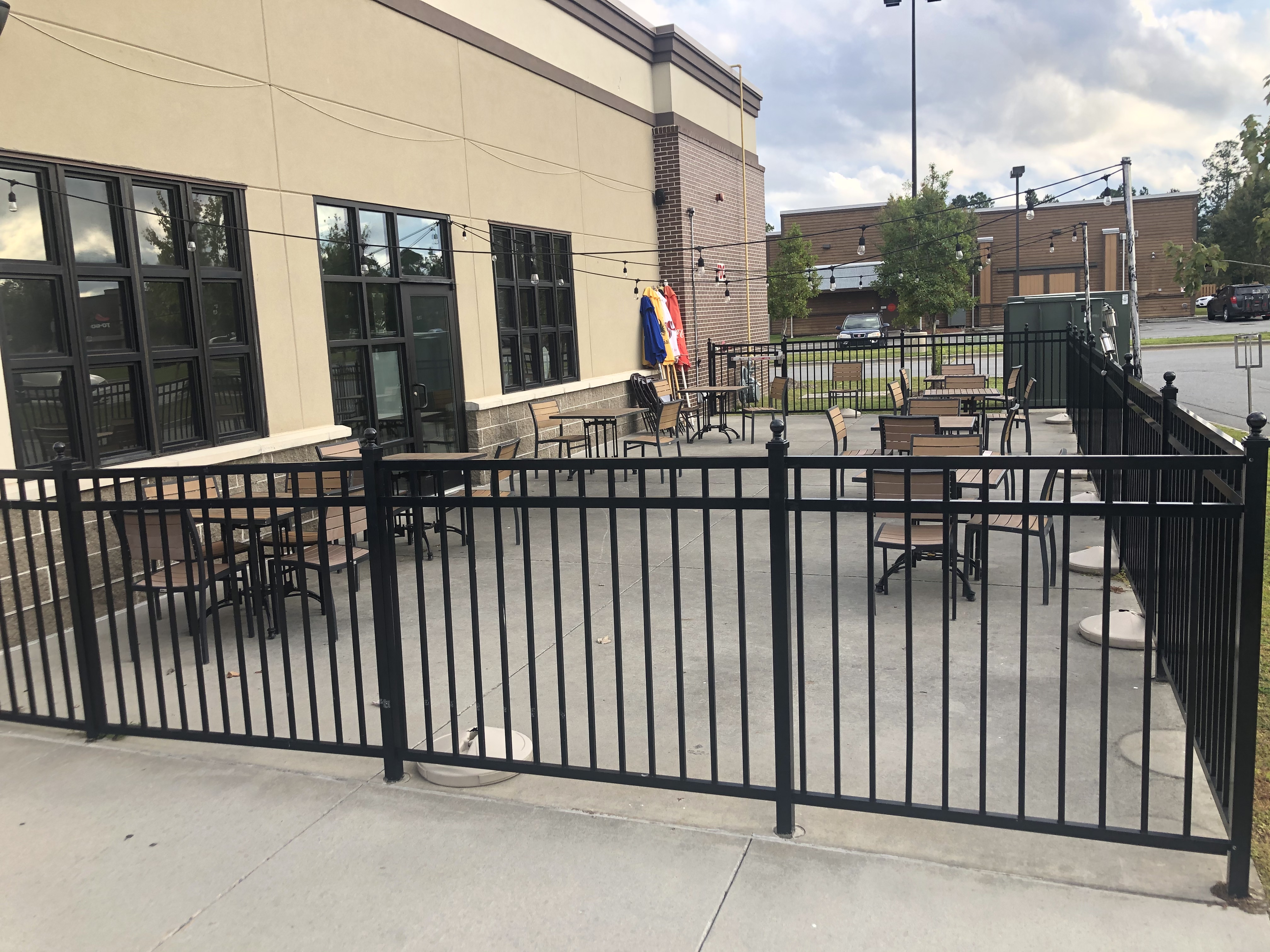 Jalapenos
226 Pooler Pkwy, Pooler

Craving some Mexican food for lunch or dinner? Why not head on over to Jalapenos? What's on offer? A tasty selection of nachos: Supreme Nachos, Shrimp Fajita Nachos, Fajita Nachos, and creamy dips to accompany your main meal. Wash down your meal with ice-cold Margaritas, imported or domestic beer or a classic wine. Jalapenos outdoor patio provides enough seating for large parties!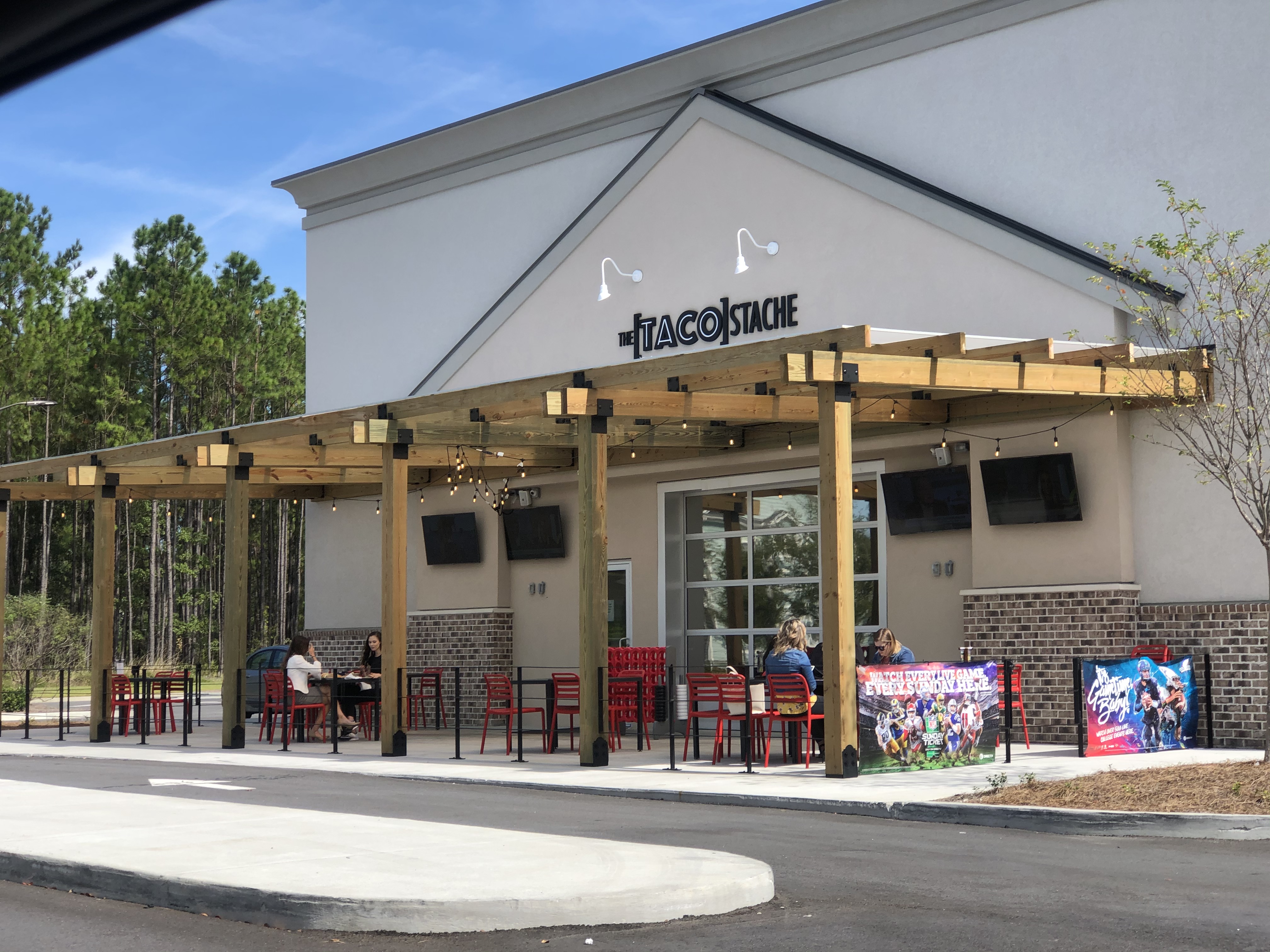 Taco Stache
100 Blue Moon Xing Suite 111
Open 11AM to 10PM Sunday to Thursday
Friday and Saturday 11 AM to 12 AM
Happy hours 3 to 7 PM
Taco Stache is another restaurant offering sizzling mouth-watering Mexican-inspired meals in a warm atmosphere. Their outdoor space includes multiple TVs perfect for gamedays. The menu includes starters, taquitos, tacos, quesadillas, sides, desserts and drinks. For those looking for a little fun, happy hour is every day between 3 and 7 pm. Vegetarian meals are available.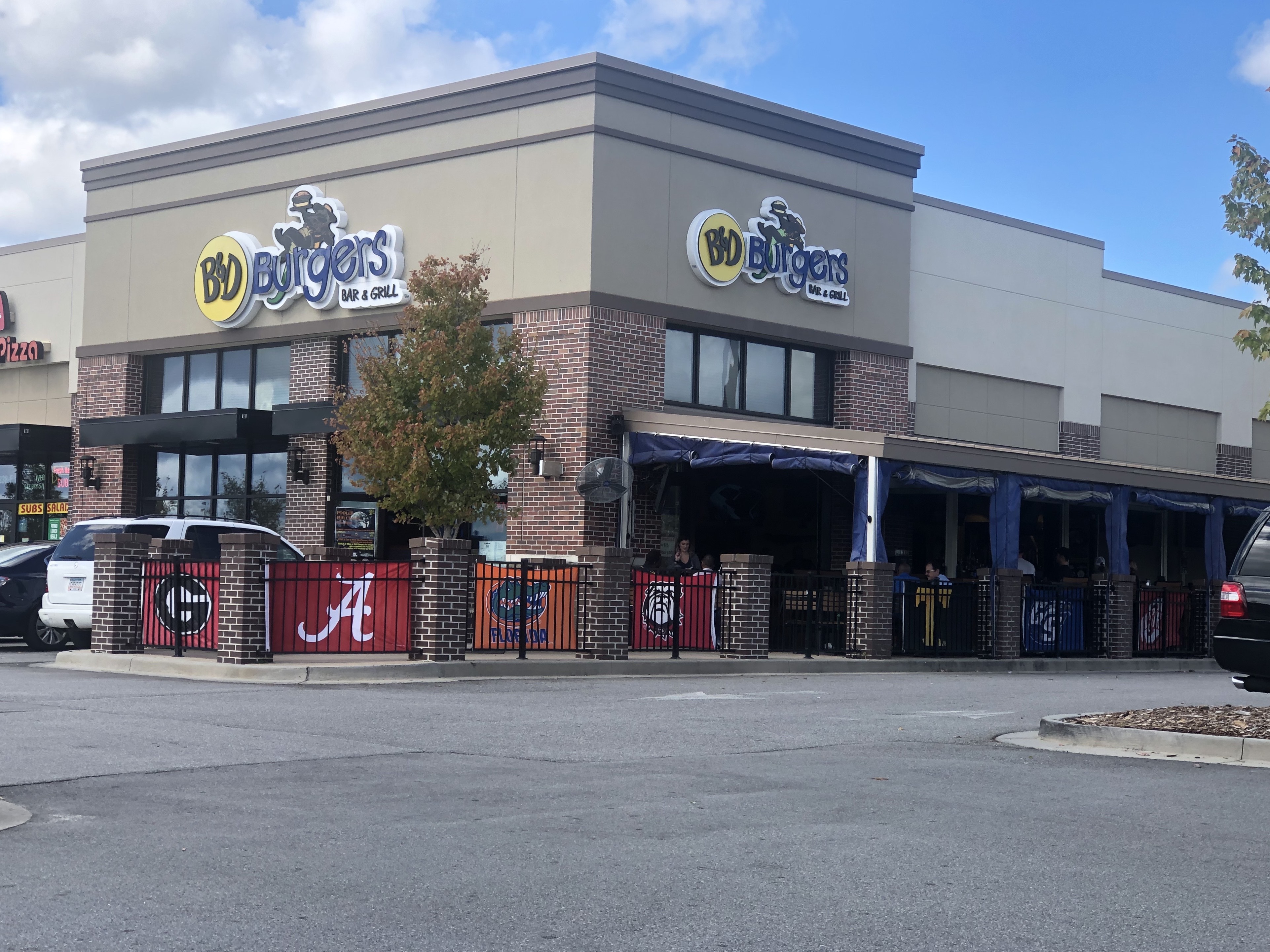 B&D Burgers
238 Pooler Pkwy
Opens Sunday through to Thursday 11 AM to 10 PM
Friday and Saturday 11 AM to 11 PM
B&D are Pooler's leading burger restaurant. Choose from in-house B&D favorites, or build your own burger, or select from specialty burgers. Starters, sides, and salads available for those wanting a full-course meal. Their outdoor space includes a full-service bar & tv's. Many nights of the week you can catch a local musician playing out on the porch!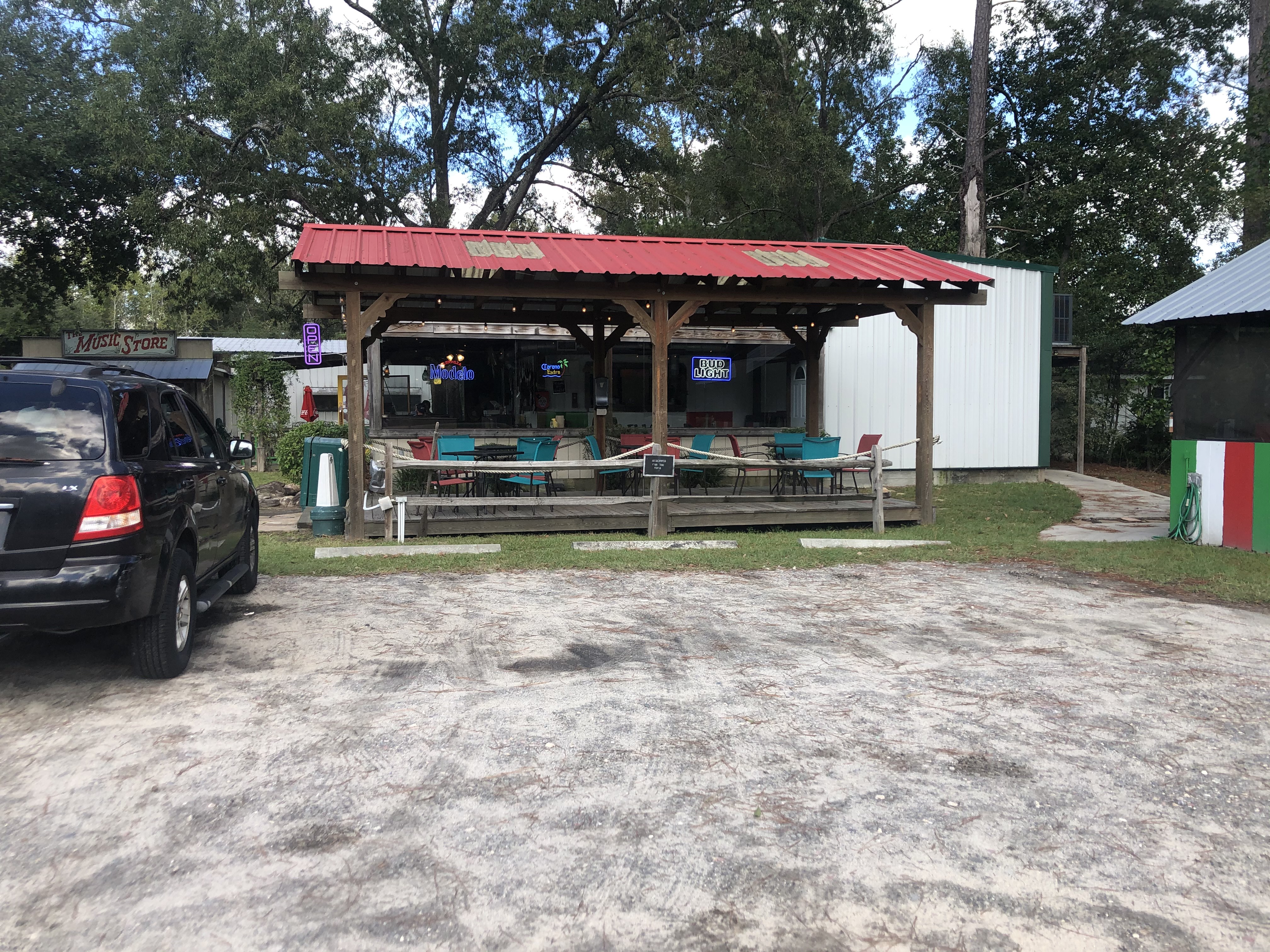 Flacos Tacos
1117 S Rogers Street
Opens Monday through to Saturday 11 AM to 9PM
Sunday from 12 PM to 6 PM
Revel in award-winning food at Flacos House and friendly service staff. Find out what makes this restaurant such a crowd-favorite. We're sure the tacos, Flaco special, burritos, and quesadillas have a lot to do with it! But don't take our word for it. Flaco's outdoor space is simple yet relaxing. Grab a cold beer & enjoy great company at this local's favorite!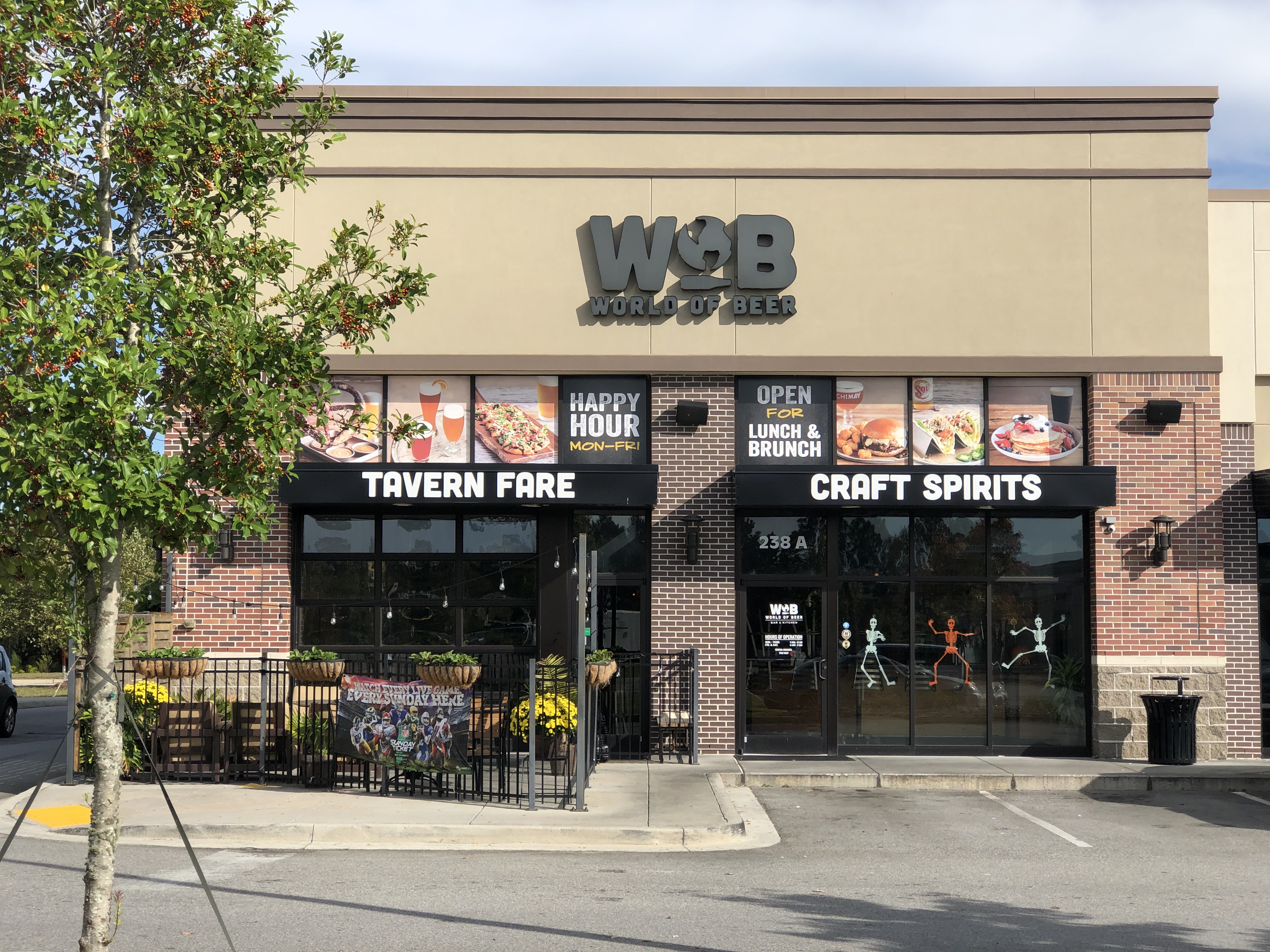 World of Beer
238 Pooler Pkwy
Opens Sunday to Thursday 11 AM to 12 AM
Friday and Saturday 11 AM to 2AM
The name of this pub says it all. World of Beers boasts 500+ global beers, spirits and wine. However, it serves more than just your fair share of beer. You'll find an impressive range of food options to accompany your drink of choice. Make your way down to Beer World for brunch, lunch or dinner. WOB's outdoor space is complete with plush outdoor seating and ambient lighting for night time. It's a great space to relax and unwind with friends.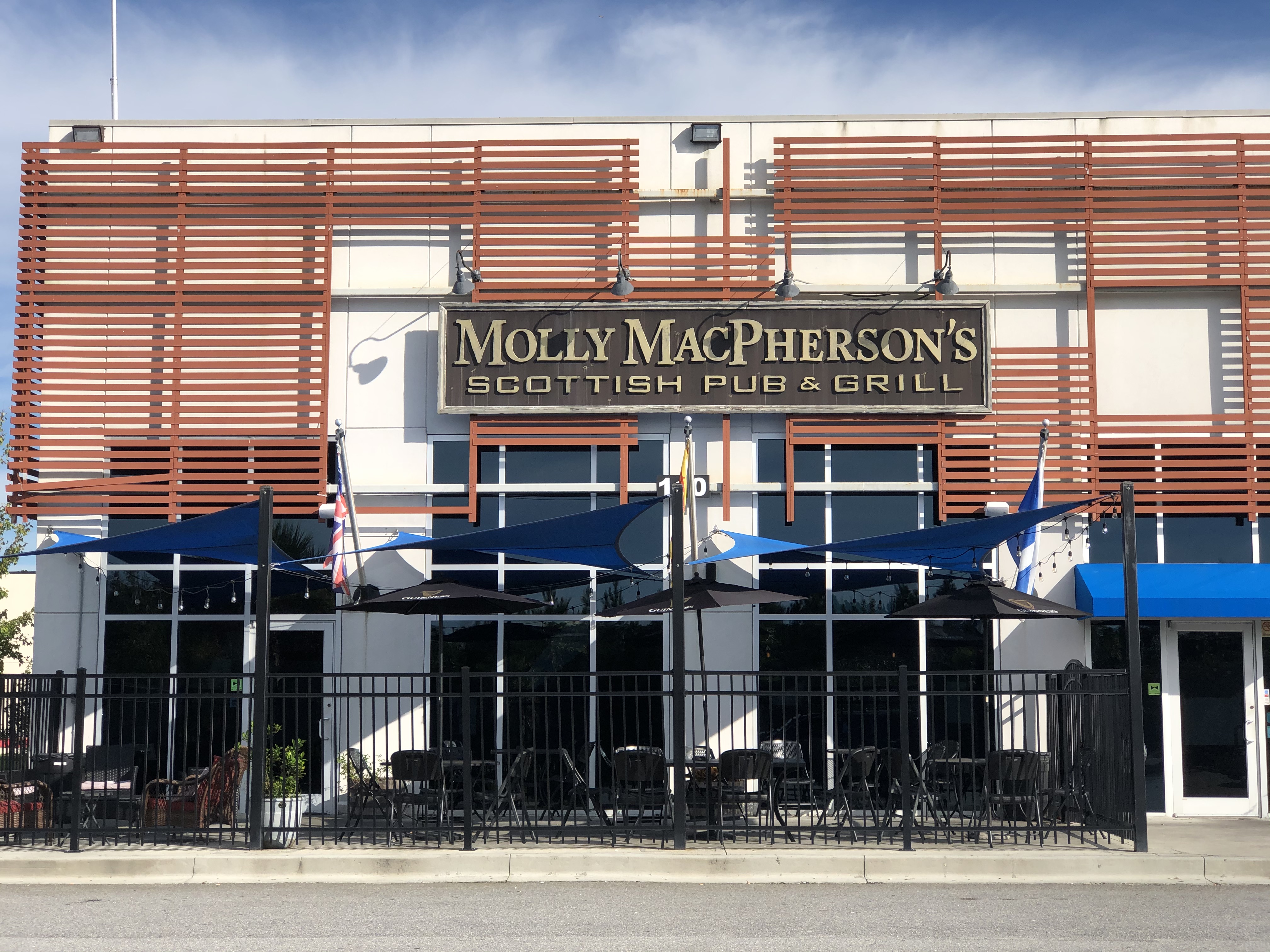 Molly McPherson's
110 Towne Center Drive
Open Monday to Saturday 11 AM to 2AM
Sunday 11 AM to 12 AM
Molly's pub is an old-school place offering an extensive selection of beers, single-malt scotch, and Scottish eats to nibble on. This is a great place to eat out if you're looking for something a little different. Molly's outdoor space is great for dining a la carte with ample seating!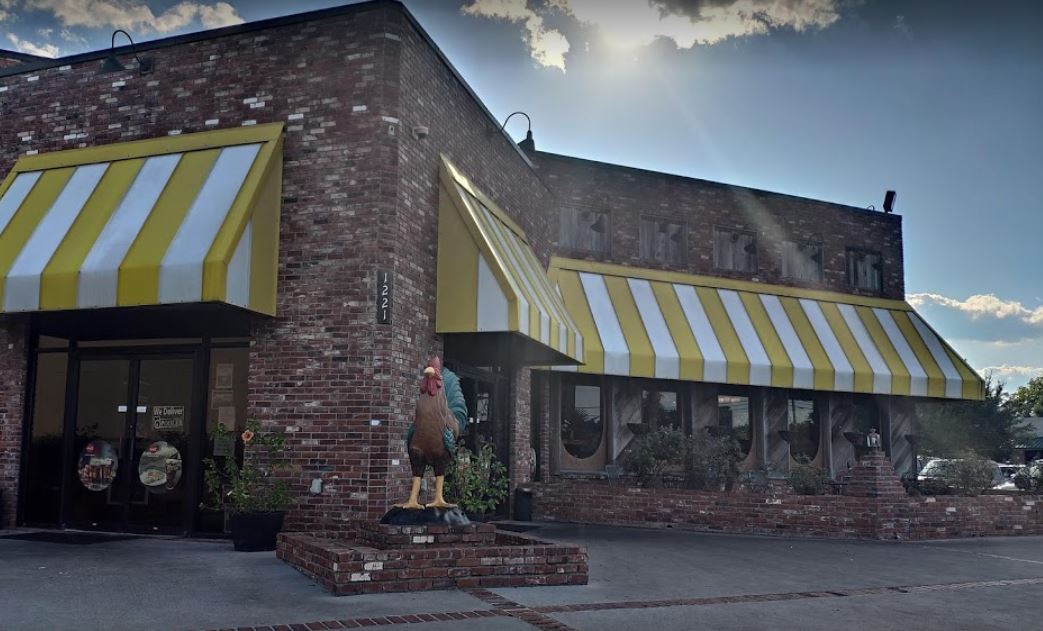 Spanky's
1221 US-80
Open Monday to Sunday 11 AM to 9 PM
Well known for their famous chicken fingers & spuds, Spanky's is a local favorite! Their restaurant in Pooler is conveniently located and perfect for entertaining large parties. Spanky's has a large patio with ample seating!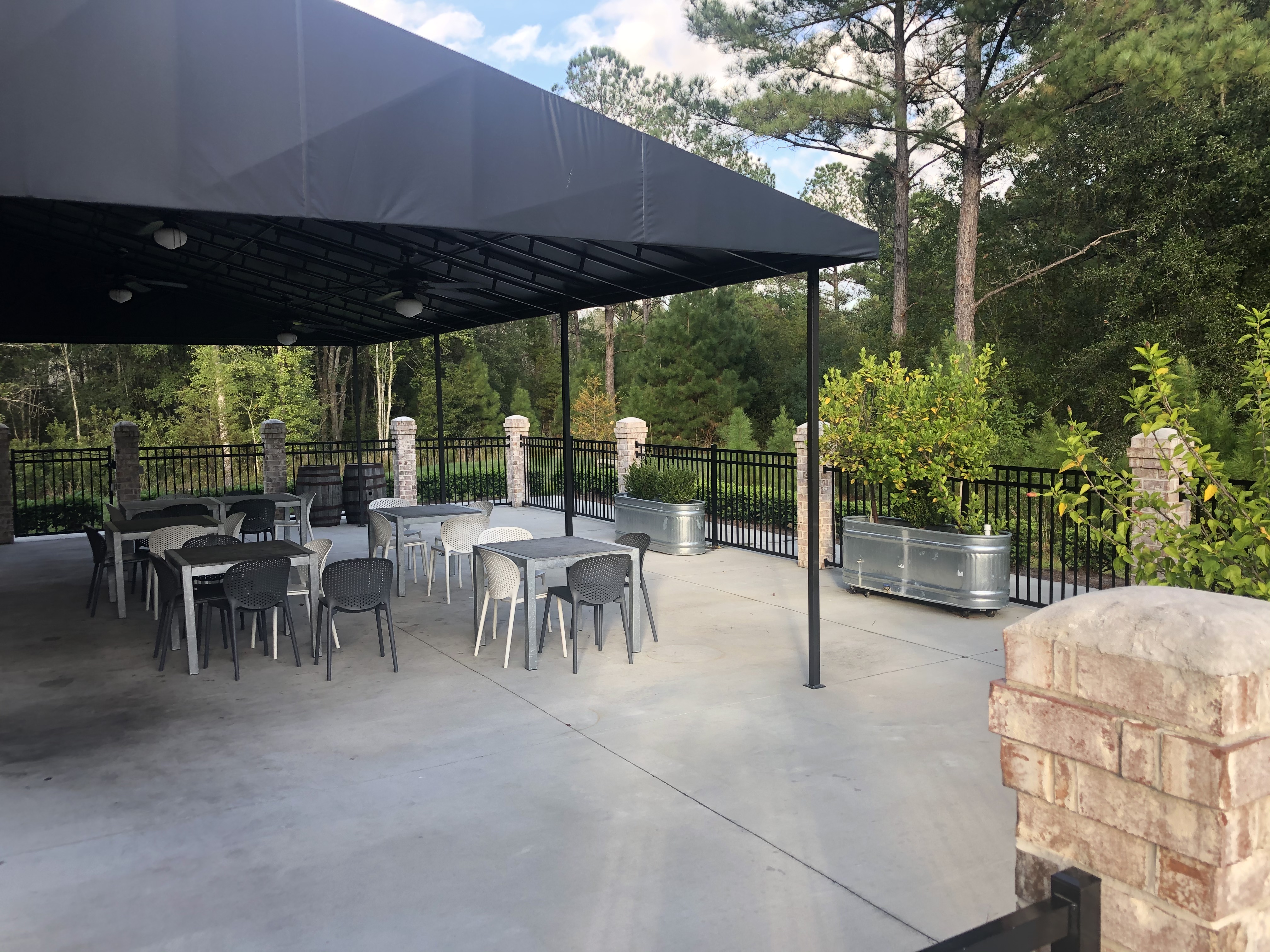 Your Pie Pooler
960 A Morgan's Corner Road, Pooler, GA 31322

Your Pie is fast-casual pizza and offers a selection of craft beer and pizza in a unique, family-friendly atmosphere. Your Pie's Pooler location offers tons of outdoor space overlooking a serene wooded view.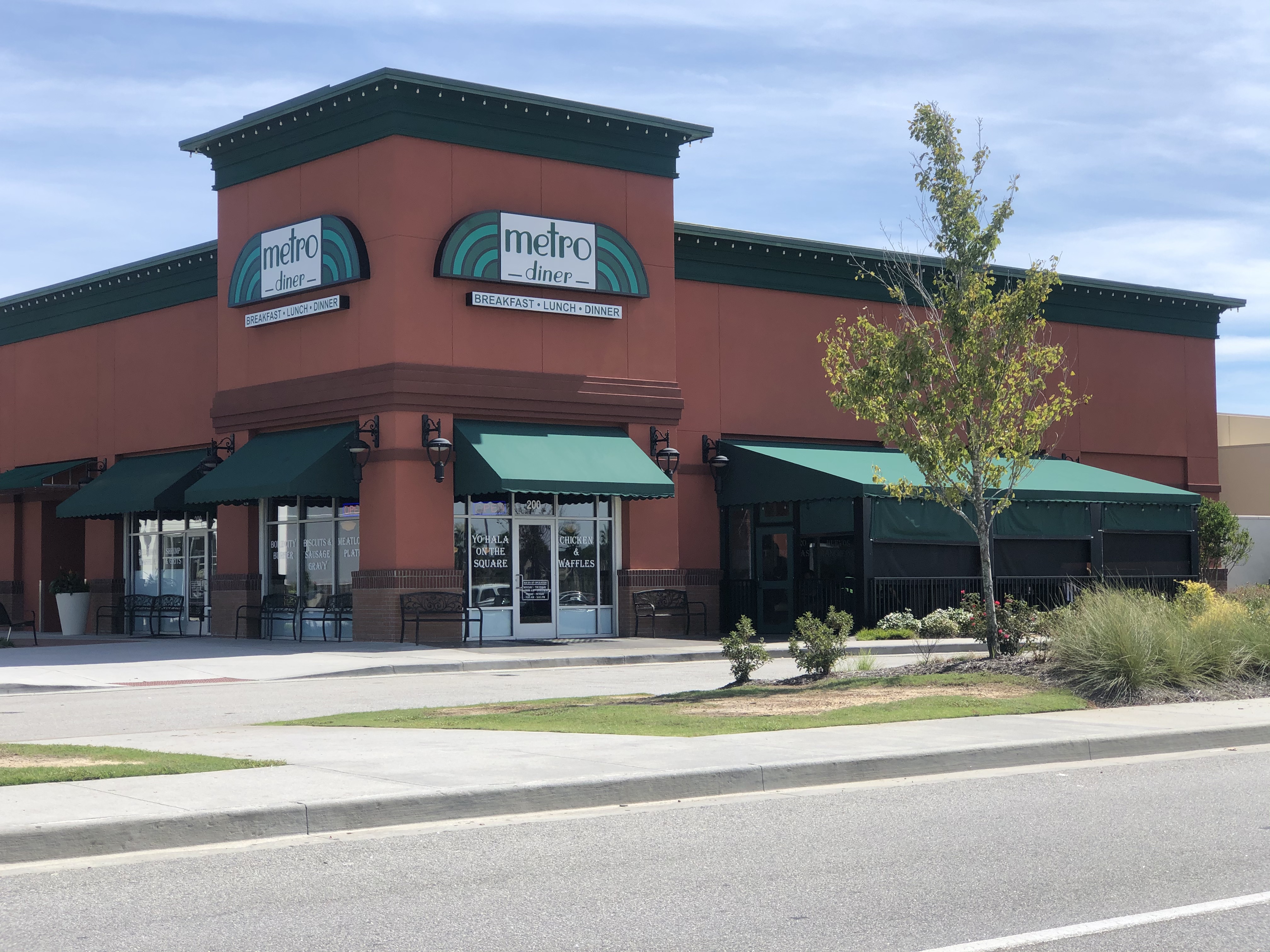 Metro Diner
200 Tanger Outlets Blvd Suite 200
Opens Sunday to Monday 8 AM to 9PM
Metro Diner is Pooler's local diner and serves classic American breakfast as well as lunch in a welcoming environment. Their outdoor space is fully covered & screened to enjoy all 3 seasons!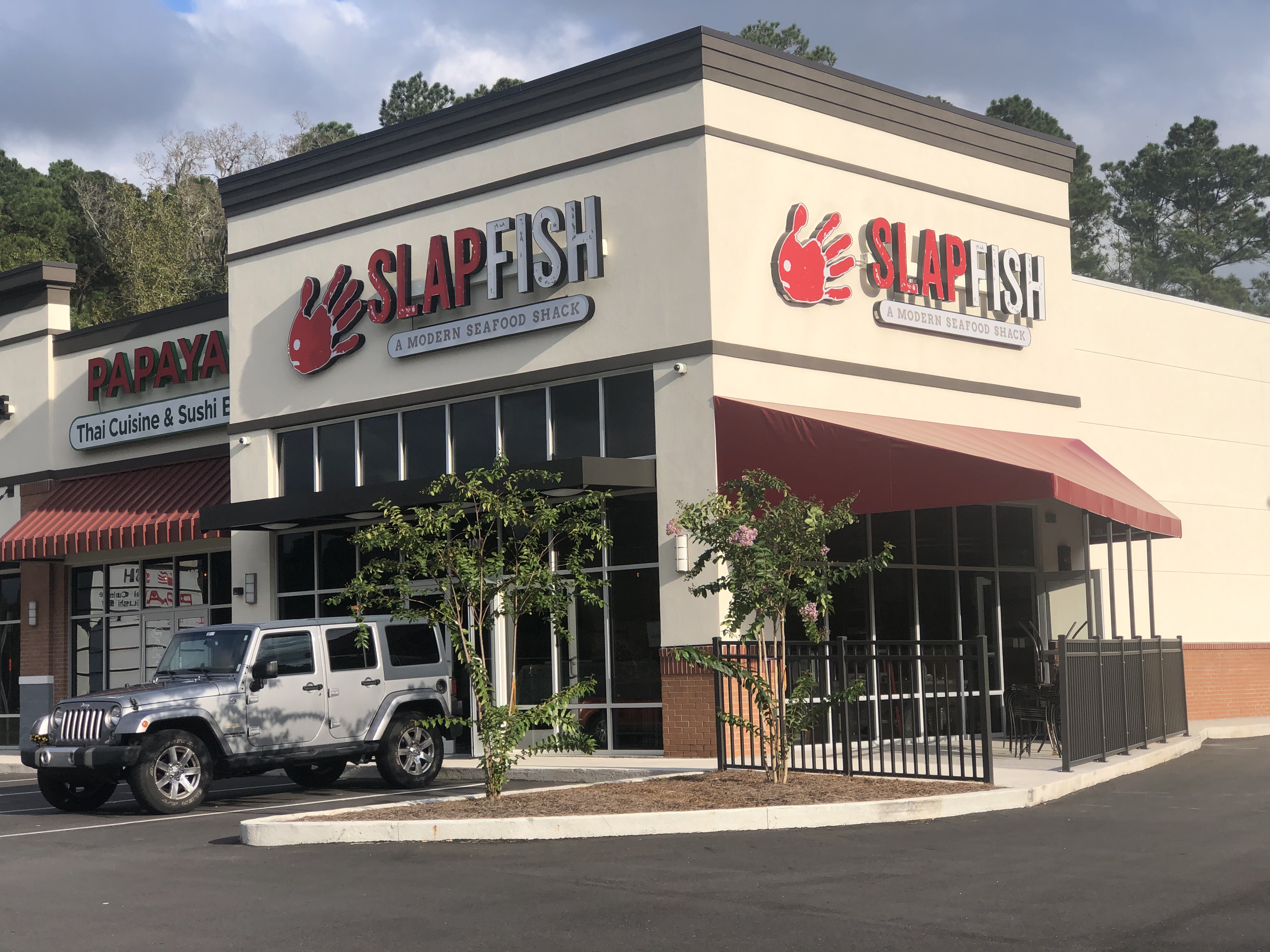 Slapfish
801 Pooler Parkway


Slapfish is a soon-to-be-opened establishment that will serve a variety of fish-based meals. Think lobster taquitos, street tacos, chowder fries and shrimp ceviche. Slapfish's new establishment will feature a covered outdoor patio to enjoy their ever-popular lobster rolls!
Pooler offers a myriad of dining options. Be sure to visit a couple of these establishments and let us know your experience!
---